I am an admitted Wheel Junkie, and have had always had a set or two of BBS wheels sitting around.
LM's, RN's, RA's, RS's, RM's, and OEM BMW BBS wheels as well.
From time to time,
I run out of room and have to pass a set on to its next owner.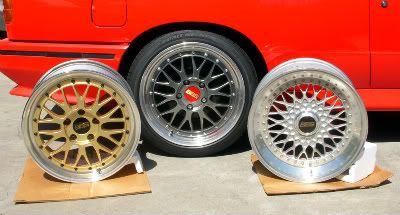 All BBS wheels are sold at this time.

I'm currently refurbishing the set of BBS RS212's seen above, which will be a spare set of wheels for the M3.

some previously sold BBS wheels shown on our customer's cars:

Gold 17" BBS LM on E30 M3:



Silver 17" BBS RN on E24 6-series: